Wellingborough Climate Action Project are leading a project in Wellingborough to help keep you warm this Winter. Our Winter Warm Project includes our Winter Warm Space, Winter Warm Packs and Winter Warm Visits, all designed to not only warm you up, but to cut your heating bills.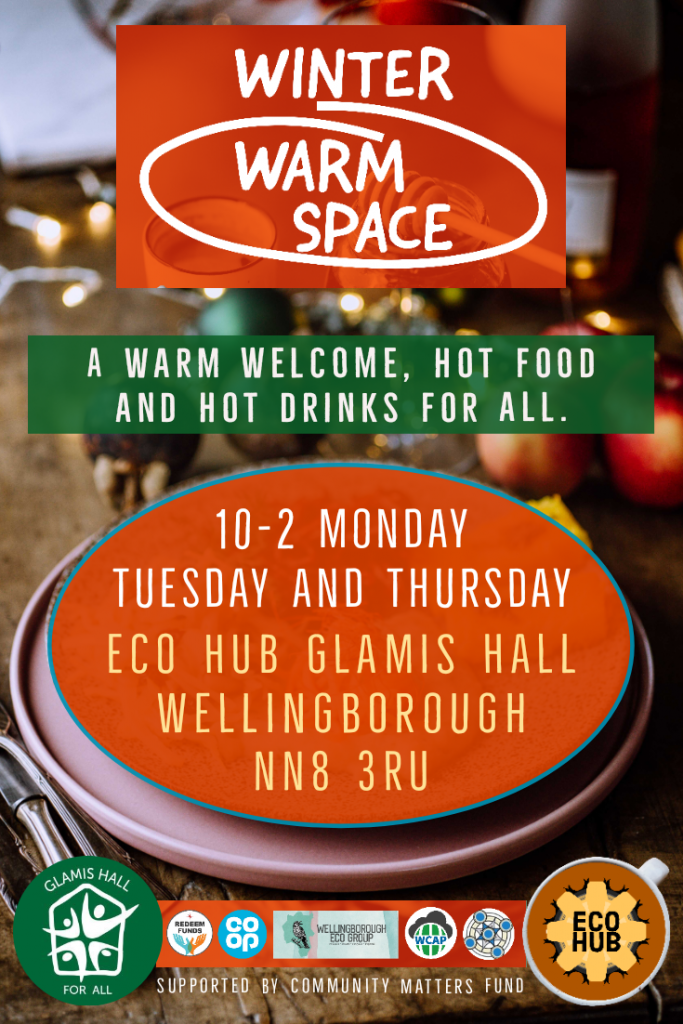 Winter Warm Space
Glamis Hall and Wellingborough Eco Group are hosting Winter Warm Space 10-2 at ECO HUB on Mondays, Tuesdays and Thursdays, during December, January, February and March. We will also offer various themed Winter Warmers on Sundays 12-3 at ECO HUB, plus more Winter Warm Space Saturday lunchtimes at our VIP Café at Glamis Hall, Goldsmith Road, Wellingborough, NN8 3RU.
Every Winter Warm Space will have activities, hot food and hot drinks. Mondays are mutual support sessions, with people on hand to give you a hand. Tuesdays are all about food, making it and sharing it. Thursdays are Happy Cafes, with games and an open Zoom so you can either join in on your computer or invite your friends and relatives to join you online. There is no need to book just come in, grab a coffee or tea, and keep warm with us and others.
Winter Warm Spaces are for anyone in need of warmth & community, they are a free warm space to share with others. We are a mutual support service from Glamis Hall and Wellingborough Climate Action Project, funded by the Community Matters Fund local giving from National Grid, facilitated by Wellingborough Eco Group at ECO HUB in partnership with Redeem Funds, Co-op and other Wellingborough Organisations; and at the VIP Café in Glamis Hall.
For more information email or call Jonathan on 07311 705705. For other warm spaces in Wellingborough see Warm Spaces – Wellingborough. Join us at ECO HUB, Glamis Hall every Monday, Tuesday and Thursday 10-2, for fun activities, hot food and hot drinks at our Winter Warm Space, plus for our Winter Warmers on Sundays (see calendar for updates) and at the VIP Café in Glamis Hall on the 2nd and 4th Saturdays of the month 12-2pm. See you there!
Winter Warm Packs
Update to follow…
Winter Warm Visits
Update to follow…