WCAP's main aim is to bring people, groups & businesses together to work on the impacts of climate change in our community. Do join the #ClimateConversations with us here, on social media and at our upcoming live events…
The threats of Climate Change can seem so overwhelming, but for our town and communities the reality of the changes we will all need to make call on each of us to act, but where and how ? As part of the new Wellingborough Town Council and Wellingborough Climate Action Project (WCAP) – hosted by Glamis Hall for All, have come together to offer 3 of Climate Conversations across the town.
Residents, businesses, faith, community groups, and schools are invited to attend and help us better understand the challenges and impacts of Climate Change, and what we can all do in response. There is a Climate Conversation happening near you: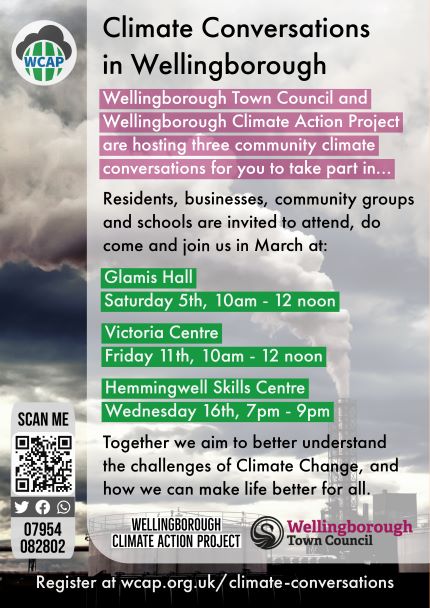 Saturday 5th March 2022 – Glamis Hall, Goldsmith Rd, Wellingborough NN8 3RU – 10am to 12 noon
Friday 11th March 2022 – Victoria Centre, Palk Rd, Wellingborough NN8 1HR, – 10 am to 12 noon
Wednesday 16th March 2022 – Hemmingwell Skills Centre, 127 Nest Farm Crescent, Wellingborough NN8 4TU – 7pm to 9pm
To help people take part from home or in person we intend to offer 'hybrid' access to each event. And if you just can't make it, the proceedings will be recorded to watch later.
To book please fill in the form below. If you would like further information please email us.
Event Sponsors: Wellingborough Town Council, Glamis Hall for All, Wellingborough Eco Group
WCAP Bringing the Community together to respond positively to Climate Change and to transition to better lives and more sustainable ways of living and working